Fulfill Any Commercial or Recreational Need
Liferafts For The West Coast
Top-quality liferafts fulfill an obligation to provide the highest level of safety to others. Addressing specific needs as an owner or business can be tricky; thankfully, a dedicated and friendly team is here to help!
Whether for commercial or recreational use, an effective liferaft takes into account any potential conditions you'll face on a voyage. What other characteristics determine the ideal fit?
Is the liferaft for commercial or leisure use?
Will it be primarily used Inland or Offshore?
Do you require a Transport Canada or USCG approved liferaft?
The number of passengers is important; but remember, bigger is not always better. Be sure you meet the needs of your vessel without overcompensating with an oversized model.
Packability determines how much room a life raft takes up and how easy it is transported or deployed. A range of options from Pacific Coast Liferaft makes it easy to decide.

e.g. Fiberglass container or valise (duffel bag). Liferafts in a valise must be protected from environmental exposure and are usually stowed below deck.

Longer voyages require more supplies. Stay prepared for anything the open water throws at you with a wide selection of essentials including rations, flares, a first aid kit, and more.

We realize you won't always be close to home when a service issue arises. To accommodate, Pacific Coast Liferaft provides you with a link to a service station map that connects you to suitable providers worldwide. NOTE: – Not all models can be serviced worldwide.

Prices can vary drastically when you are trying to compare products. You will want to confirm that you are pricing the right product for your needs. For example, although they may have similar descriptions, the "Offshore" liferaft designed for the leisure market may not meet the needs or regulations of the "Offshore" liferaft designed for the professional operator.
Regular service is a critical piece of the liferaft puzzle; how much does servicing cost? The answer depends on the raft's model, age, and date of the last maintenance check. Commercial liferafts are serviced annually and most leisure liferafts are on a three-year service interval.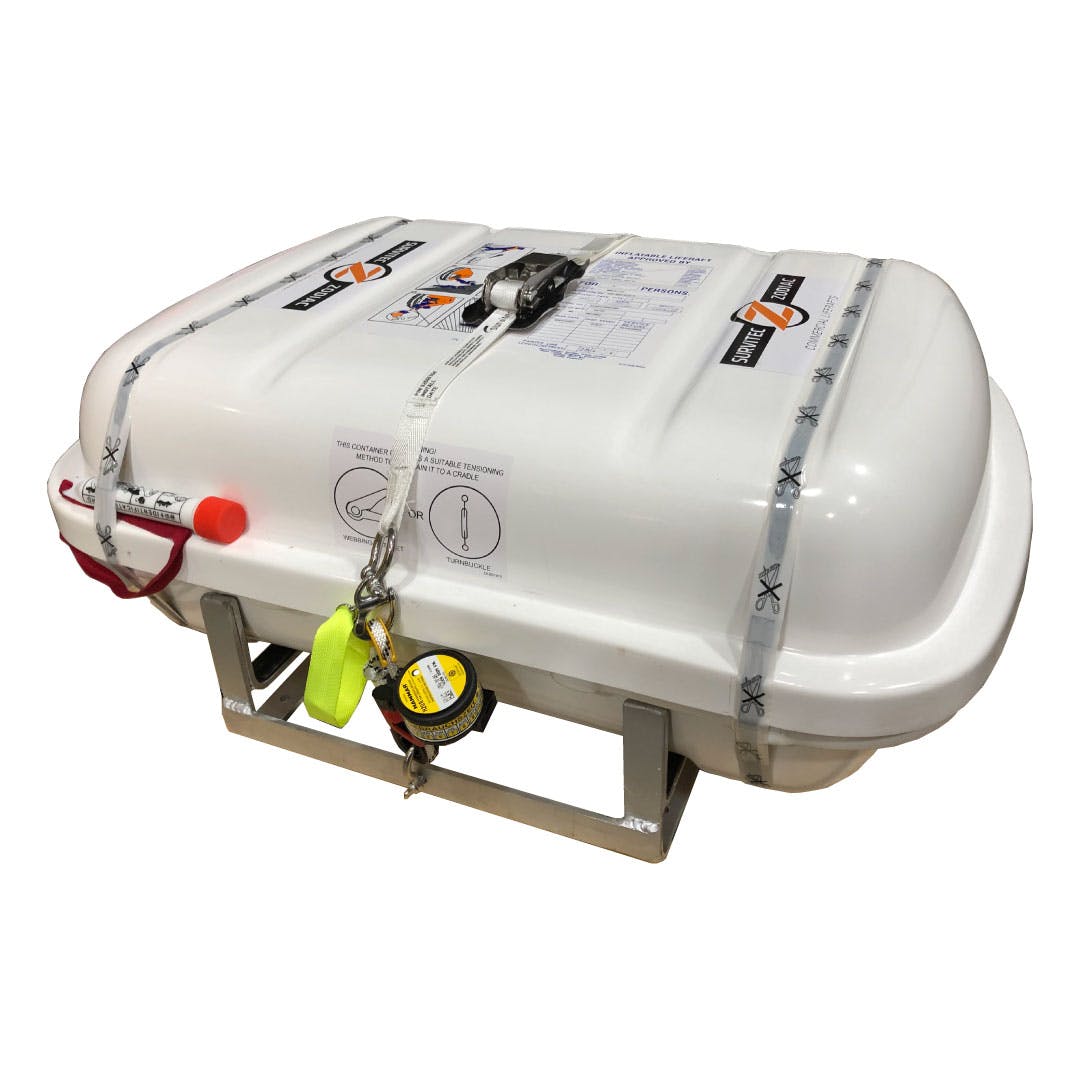 Let's break down the 2 main categories:
Transport Canada (TC) and SOLAS require commercial fishing, passenger, or larger vessels to have an approved liferaft; what type suits your operation?
TC/SOLAS 'A'
TC/SOLAS 'B'
TC Coastal
TC approved IBA

There are many unique requirements when choosing a liferaft. Commercial liferafts require annual inspections as per Transport Canada. As a result, choosing the correct raft and staying on top of service requirements is very important. Failure to do so can result in your vessel being non-compliant.
In most cases, recreational vessels are not required to have an onboard liferaft. It is, however, highly recommended to have a backup plan should something go wrong; do you know what is right for your vessel?
Offshore –Water or food rations, signaling flares, a first aid kit, and other items keep passengers prepared for any offshore voyage. Insulated flooring alongside large ballast bags keeps passengers safe.
Coastal –A smaller and light raft designed to fair well in moderate conditions. With uninsulated flooring and limited equipment, coastal liferafts are an ideal option when near the shore.
ISO-approved – Organized events such as races require participants to have an ISO-approved liferaft. Two main categories of models ensure a self-sufficient voyage in a variety of conditions. 
You should always stay atop the servicing of your liferaft for your recreational vessel. Ongoing service every 3 years, as specified, will ensure equipment is fully-functioning when it is needed the most.
Choose Pacific Coast Liferaft
Ensure your safety on the water for years to come with Pacific Coast Liferaft; explore our extensive line of commercial and recreational models today.
Product successfully added to your cart.
View Cart